By Claudia J.
Mark your calendars on October 12th! Beginning this year, Howard County will celebrate Indigenous Peoples' Day. On WJZ-13 CBS, County Executive Calvin Ball released a statement on the decision. "Celebrating Indigenous Peoples' Day does not absolve us from our history, but we hope that it sets a tone and opens up discussions on the importance of restorative practices throughout our government and our community."
Indigenous Peoples' Day is an exciting opportunity to explore the incredible history and culture of Indigenous communities that have often been underrepresented in our celebrations. Of course, what better way to observe this holiday than to curl up with a new book? I know I will! Here are ten books for you and your family to read and learn about Indigenous culture by authors of Indigenous descent:
For the Little Ones:
Fry Bread: a Native American Family Story by Kevin Noble Maillard; Illustrated by Juana Martinez-Neal
Do you know what fry bread is? This colorful and touching picture book by Maillard answers this question and provides a kinship to the Native tradition of communal food preparation. In addition, Maillard provides a personal background to the narrative as he is an enrolled citizen of the Seminole Nation of Oklahoma. Coupled with the illuminating illustrations by Martinez-Neal, children and adults will enjoy reading Fry Bread together.
We Are Water Protectors by Carole Lindstrom; Illustrated by Michaela Goade
"Water is the first medicine, It affects and connects us all…" Earth is made up of 71% of water and it provides its inhabitants with nourishment and hydration. What would you do to protect it? Inspired by the Dakota Access Pipeline protests at the Standing Rock Indian Reservation, We Are Water Protectors is an incredibly accessible picture book for children to learn more about water and its importance to the health of the Earth. Lindstrom provides readers with a piece of her culture, as she is Anishinabe/Metis and is tribally enrolled with the Turtle Mountain Band of Ojibwe. She also calls Maryland her home!
For the Big Kids: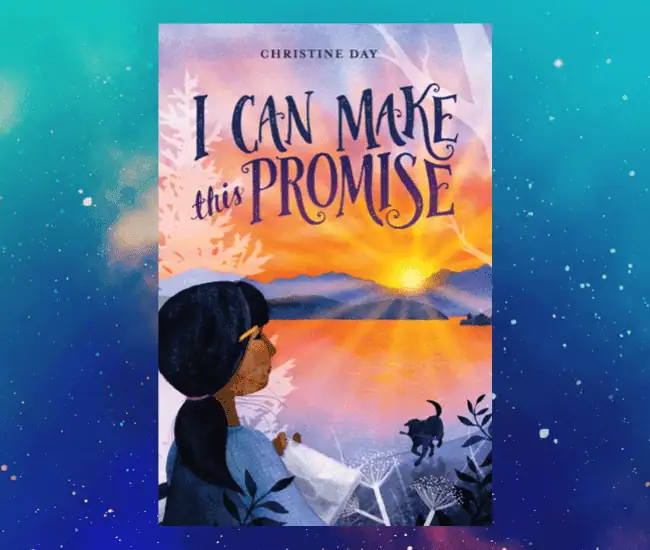 I Can Make this Promise by Christine Day
With her debut middle grade novel, Day tells the semi-autobiographical story of a 12-year-old girl's search for her true identity. Adopted at a young age by a white couple, Edie has always been curious about her Native American heritage. When she and her friends find a box of letters and photos of a woman who shares her name, Edie begins to question her parents and the secrets they kept from her. Powerful and important, Day weaves a storyline together that draws from her own Native heritage as an enrolled citizen of the Upper Skagit tribe. I am very excited about this novel and will be adding it to my reading list.
Indian No More by Charlene Willing McManus with Traci Sorell
Straight from our 2020 Summer Reading list, Indian No More tells the heartbreaking story of 8-year-old Regina and the erasure of her Native American identity. It's 1954 and her family is told all tribes in their state of Oregon no longer exist. Much like the other selections on the list so far, this novel is based on McManus's own experiences when her tribe, the Umpqua, was terminated in 1954. Sadly, McManus passed away in 2018, unable to complete the revisions to her novel. Her friend and fellow author, Traci Sorell, completed the revisions as she wished.
For the Teens:
#NotYourPrincess: Voices of Native American Women edited by Lisa Charleyboy and Mary Beth Leatherdale
Told from the perspective of young Native American/Indigenous women, #NotYourPrincess weaves together a traditional narrative with artwork, poetry, photography, and interviews to present a well-rounded depiction of issues affect Indigenous communities. While parts of the stories can be tough to read, this anthology is a great conversation starter for teens, especially young women, who could relate to the issues depicted in these stories.
The Marrow Thieves by Cherie Dimaline
Imagine a dystopian world where a majority of the world's inhabitants have lost the ability to dream. Set in the future, The Marrow Thieves tells of a world such as this and how the lack of dreams has caused intense madness among society. The only people still able to dream are North America's Indigenous communities. Their bone marrow is the cure for all mankind for the world to return to prosperity, but this means the certain death of the marrow holders. This sets the stage for Frenchie – a 15-year-old Indigenous teen, trying his best to survive, protect his companions, and flee from "recruiters" who hope to steal his marrow. Written by Canadian writer Cherie Dimaline, who is a member of the Georgian Bay Metis Community, The Marrow Thieves is an action-packed novel for fans of dystopian societies. It also packs a moral punch as to how we, as a society, view Indigenous communities and resources.
For the Graphic Novel Fans:
Surviving the City by Tasha Spillett, Illustrations by Natasha Donovan
As if to speak entirely from its title, Surviving the City is based in an urban environment in Canada, where readers are introduced to Miikwan and Dez. Miikwan is Anishinaabe; Dez is Inniew. They are best friends trying their best to navigate the normal struggles that come with being teens as well as being faced with the challenges of being a part of a small, Indigenous minority in an urban landscape. When Dez's grandmother falls ill and is unable to take care of Dez anymore, Dez is faced with the possibility of going into a group home. Unable to deal with that solution, Dez leaves home and disappears. Will Dez's community find her before it's too late? Tasha Spillett's debut graphic novel series at first seems simple in telling Dez's mysterious disappearance, but it also sets the tone for providing information about murdered and missing Indigenous women and girls in Canada.
A Girl Called Echo by Katherena Vermette, Illustrations by Scott B. Henderson, colored by Donovan Yaciuk
Time travel fans will enjoy the story of Echo Desjardins, a 13-year-old Metis girl adjusting to a new home and school, separated from her mother. During one of her first lectures with a new teacher, Echo transports to the past in several different environments: a fur-trade route, the Pemmican Wars, and a bison hunt, to name a few. Selected for our 2020 Summer Reading list, teens and adults alike will enjoy this refreshing take on Indigenous history, written by Katherena Vermette, a Metis Canadian author.
For the Adults:
There There by Tommy Orange
An instant hit upon its release, Cheyenne and Arapaho author Tommy Orange provides readers with an intense narrative of the urban Native American. This novel follows the journeys of 12 characters from Native communities, all en route to the Big Oakland Powwow. Each character has endured their own unique struggles, and the interwoven narratives provide a larger, deeper story of the contemporary Native American struggle while grappling with a painful history. A very popular book club choice, There There will definitely provide some complex conversation and will pique your interest in Indigenous history.
The Night Watchman by Louise Erdrich
I thought I would end with a recent release from this year. Highly acclaimed author Louise Erdrich writes a fictionalized version of her grandfather's life as a night watchman in the 1950's. Set on her family's home reservation (in what is now North Dakota), night watchman Thomas Wazhashk is a Chippewa Council member who is grappling with the new "emancipation" bill proposed by U.S. Congress. Despite "emancipation" as a synonym for freedom in previous events, this bill presents the term more like a "termination" of Native American culture, land, and identity. His story is coupled with that of Patrice Paranteau, a young adult who makes jewel barrings at the plant and is saving to search for her sister, Vera. Poverty, violence, exploitation: Louise Erdrich combines these intense themes and crafts a novel based on her Ojibwe roots and current Anishinaabe membership. I am definitely adding The Night Watchman to my to-read list.
No matter what age, we can all celebrate Indigenous voices this year and for many years to come on Indigenous Peoples Day. I hope there are some selections you will explore this fall, and all are available at HCLS! Add these books to your holds queue and enjoy these amazing stories.
Claudia J. is an instructor and research specialist and has worked for Howard County Library System for a little over four years. She enjoys writing on rainy days and drinking iced coffee on sunny days.